DiabloSport Predator
---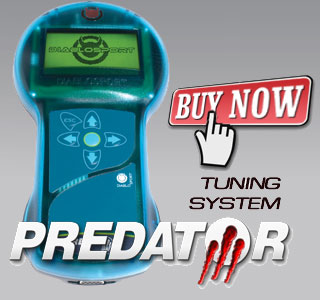 What is the Diablosport Predator?
The Predator is a state-of-the art, high performance tuning flash programmer in a sleek handheld design. Once connected to the vehicle, the Predators internal computer recognizes the vehicles PCM and automatically picks the proper tuning files designed specifically for that PCM. Inside the Predator's memory are the actual tuning files that optimize spark timing and air/fuel ratio curves. Unlike other 'tuners', DiabloSport's programming is performed in very small increments throughout the entire RPM rnge, for a smoother, wider and a more predictable power delivery. DiabloSport engineers spend many hours on the dyno, street and track to ensure the tunes provided with the Predator are the best they can be.
Dyno Tested Performance Tunes
The Predator was created with one thing in mind, POWER! Average power gains are per tune. The Predators additional power makes itself noticeable immediately with an increase in power that starts in the low RPMs and builds into a frenzy at the high RPMs. A Predator equipped vehicle will notice significant improvements in drivability. The additional power created by the Predator tune will yield quicker acceleration and better mileage, whether it is in town or out on the highway. The power increase in the lower RPMs will yield a better throttle response. The increase in MPG is a byproduct of maximized engine efficiency, the improved timing curve and air/fuel ratio creates a more complete combustion, i.e. the engine extracts more power from each molecule of gasoline.
---